Chin & Cheek Augmentation
Enhance your facial features and achieve a more balanced profile with our chin and cheek augmentation services.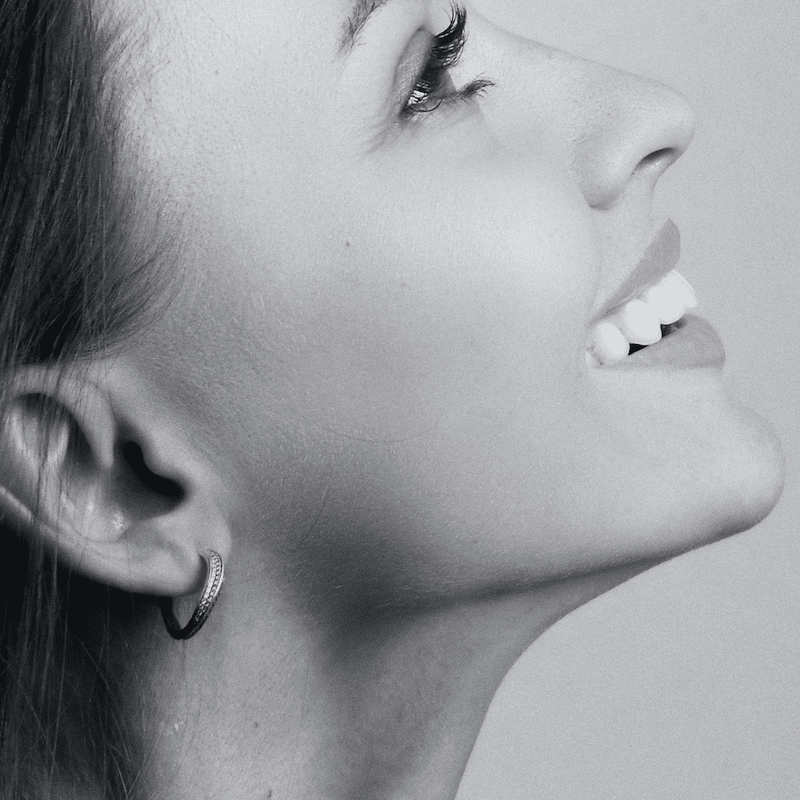 Whether you are male or female, well-defined facial features contribute to physical beauty. High, prominent cheekbones and a distinct, projecting chin are facial features that help to present a confident, attractive appearance.
Nature is kinder to some people than others in the area of well-defined facial features. At Peck Plastic Surgery, Dr.Peck can perform safe chin and cheek augmentation procedures to produce distinctive higher cheekbones and a more chiseled jawline, with attractive results that are permanent in most cases.
Chin Augmentation Surgery
Chin augmentation is a procedure designed to reshape the chin or enhance its size for a well-defined jaw line that is in better proportion with other facial features.
This surgery can be performed in one of two ways:
Placement of a chin implant; or
Surgical manipulation of the jaw bone.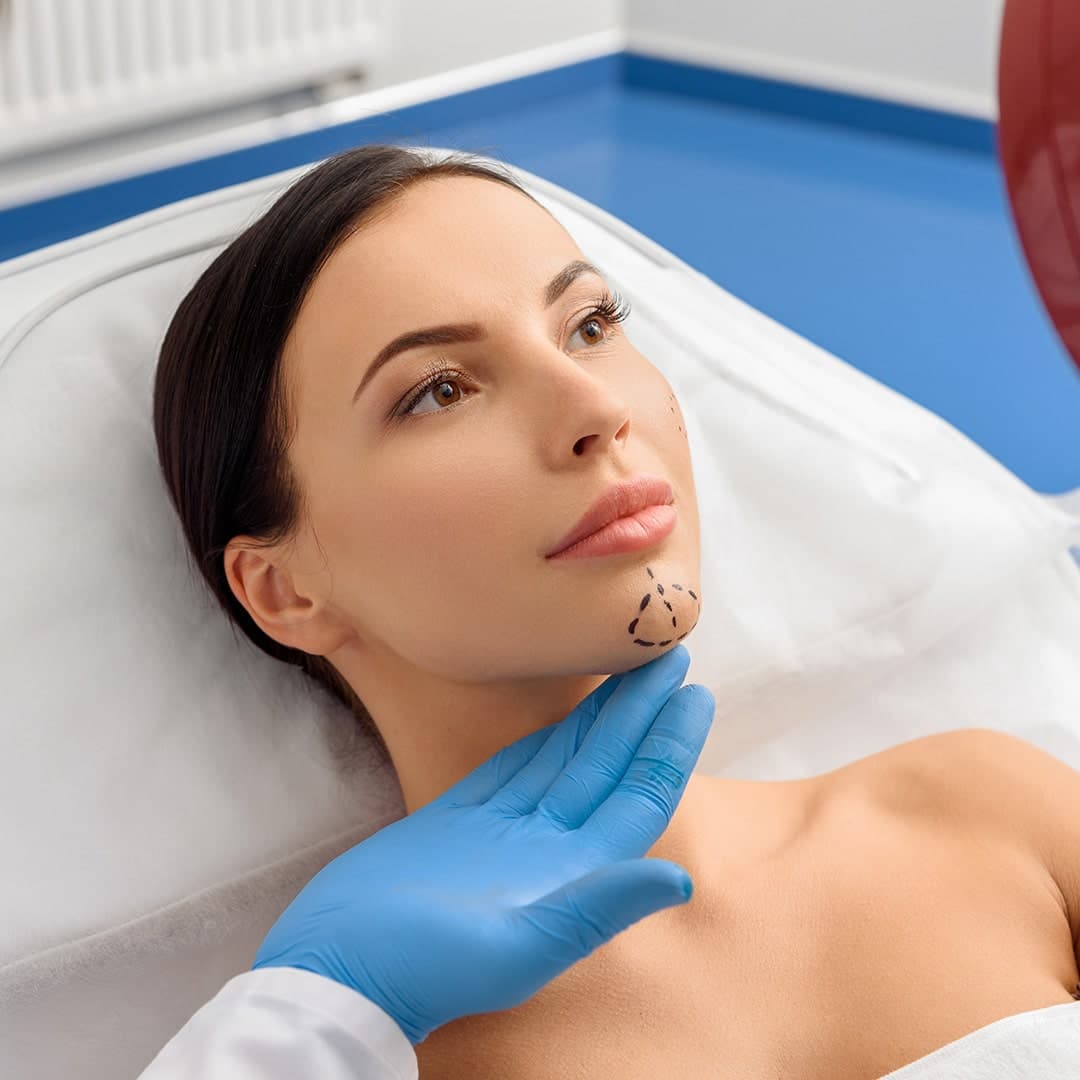 How Chin Augmentation Works
For chin implant placement, an incision is made either inside the mouth or outside, under the chin. The surgeon creates a pocket underneath the muscle in front of the chin bone and places the implant inside the pocket. The implant may be attached to the bone with sutures or screws, and then sutures are used to close the incision. An incision made inside the mouth has the advantage of leaving a barely visible scar.
If the bone needs to be manipulated, the surgeon makes an incision along the lower gums for access to the chin bone, and then makes a second incision through the bone. The bone is moved into position and wired or screwed in place, and the incision is closed with sutures.
Chin augmentation surgery is typically performed as an out-patient procedure under general anesthesia, or with local anesthesia and intravenous sedation. The procedure takes approximately 1 to 2 hours. Most patients can return to work within a week after surgery. However, exercise should be avoided until approximately the 4th week of recovery.
Begin Your Transformation Journey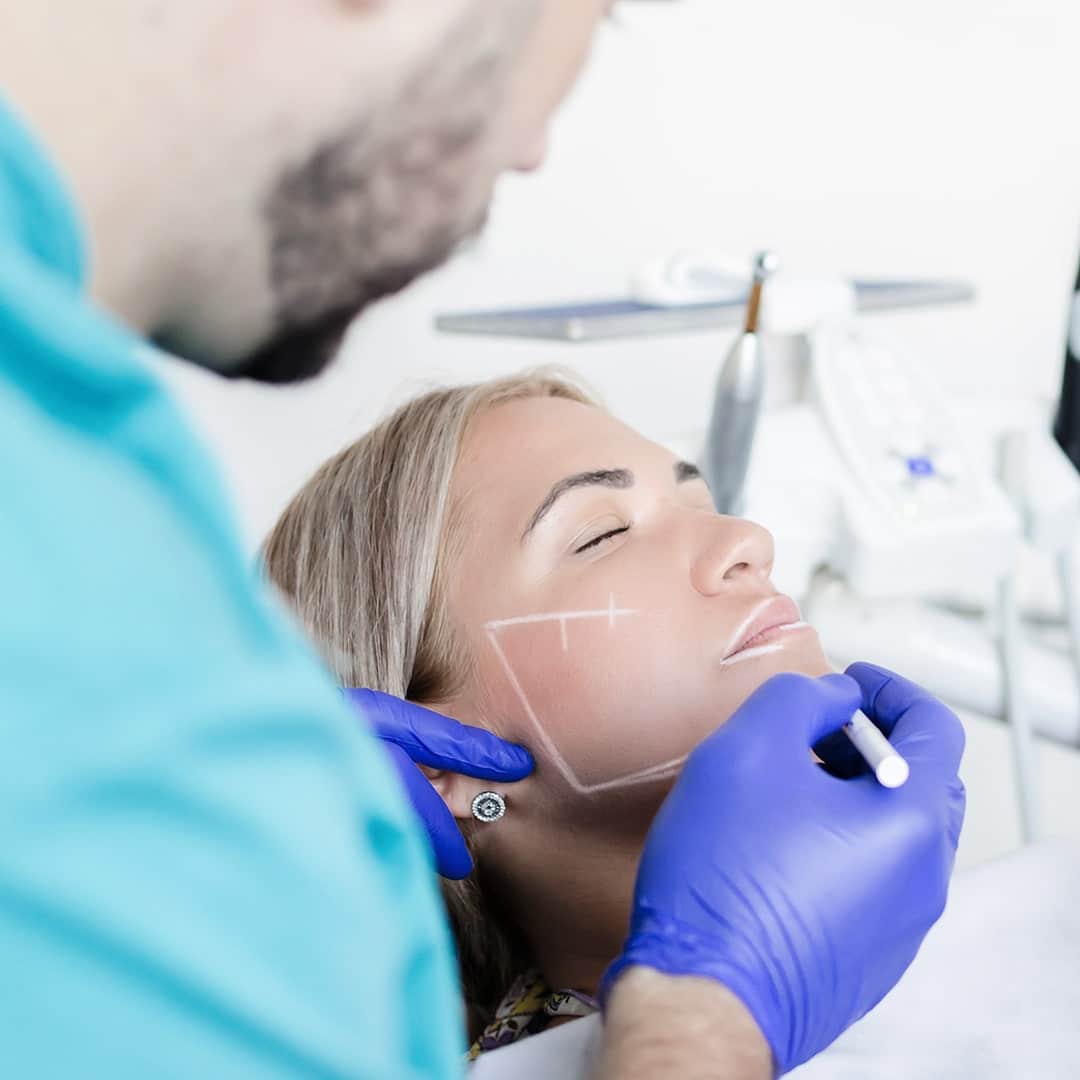 Cheek Augmentation Surgery
High, sculpted cheekbones can greatly enhance the beauty of the face. For individuals with flat or underdeveloped cheeks, implants can add volume for more distinct facial contours and a fresher, more youthful appearance.
Is Cheek Augmentation Safe?
Cheek augmentation with implants is a safe, predictable cosmetic procedure that can greatly enhance the appearance of the face. Facial implants are composed of materials compatible with human tissue, so there is little chance of rejection or allergic reaction.
When performed in conjunction with other facial surgery, such as a face lift, brow lift, rhinoplasty (nose job), or eyelid lift, cheek implants can be placed through incisions already made for another procedure. If cheek implant surgery is performed alone, the implants are placed through small incisions in the mouth or lower eyelids. The surgeon forms small pockets in the cheeks, places the implants, and closes the incisions.
Dr. Peck of Peck Plastic Surgery has been helping patients of all ages look and feel their best for decades. He has served the New Jersey area for many years, performing aesthetic plastic surgery procedures with a commitment to surgical excellence and providing a comfortable treatment experience for his patients.
If you are interested in a chin or cheek augmentation, call our office in New Jersey to schedule a consultation with Dr. Peck. Cosmetic procedure consultations are complimentary.